A friend of mine rang up the other day and asked if I could help fix a Technics 1210 record deck. For the uninitiated, these are the decks that DJ's around the world use (or used to use) for mixing old fashioned shellacs (sorry, records). Now you may think that playing music by spinning an analogue record made of vinyl stopped years ago, but a fair percentage of DJ's still swear by them. Although there are numerous disadvantages (e.g. it's almost impossible to buy vinyl in physical shops any more, they get scratched & dirty easily, you can't do keylock etc etc) the immediacy and control that they afford is still highly prized.
So much so, that my friend was asking me to help fix them instead of sending them off to a specialist service – costing £180!
After taking the wrong deck apart and struggling to find any problems (nice one Jimmy!) we realised that the other deck's problems were due to a signal cable which had a nasty bulge in it covered by sticky blue tape. Under the tape the leads had been half-heartedly twisted together, and needless to say, were now well oxidised and making poor contact. The earth lead was also damaged and 'repaired' in a similar way.
The hardest part of the job was removing the bottom rubber plate which has loads of screws! There are a couple of different types, if you are doing this. make sure you don't get them mixed up like we did (duh).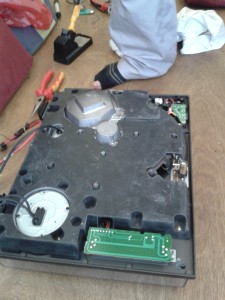 Once the rubber bottom piece is removed, next we had to remove the circular plate that provides strain relief and signal shielding. Best to remove the strain relief block first (it's difficult to describe how this works, but a couple of minutes fiddling with it should make it obvious!!) and then the circular plate just unscrewed.
After that, it was just a case of de-soldering the old cable, cutting a new one to suit, few seconds work to solder it in and replacing the cable tie. Notice that there are two separate strain relief devices, this sort of build quality and attention to detail is part of why these things cost more today than when they were being made! Seriously, you can pay £1300-2000 for a box-fresh (old but unused) 1210 – that's just for one deck, and most people want two! Having heard Jimmy bang on about their superlative qualities endlessly I finally got to appreciate them directly – it's true that if you want to know how well something has been made, then try and repair it.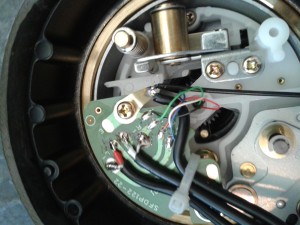 After that it was time to re-assemble and test – over to you, Jimmy,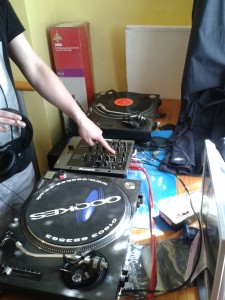 A nice little job, took about half an hour, and a fair bit of that was taking apart and re-assembling the wrong deck! – saving our mutual friend (the deck's owner) a tidy £180.